Premium

Churn-Analytics

for small businesses.
Would you like to know, why your users are leaving? Do you know the main struggle of your users on your app or page? Would you like to stop your users from unsubscribing?
Churn does not happen, when a user clicks unsubscribe. It happens way before.
Trusted by these and other companies
What you'll get for your money
Everything for you to start preventing users from churning
I'll take care of all aspects of your churn analytics needs. From modelling your user behavior to finding the patterns of churning users and providing in-depth dashboards for you to find early signs of dissatisfied users.
Tracker Setup:

I add modern, GDPR compliant trackers to your webpage - collecting anonymized data about your users behavior and respecting their privacy.

User behavior modelling:

I'll use the collected data to create advanced models for how your users behave on your page. As a next step, I'll find patterns in the behavior of churning users.

Dashboarding & Reports:

I'll provide 3 dashboards, containing all the relevant information you need for finding early signs of churning users.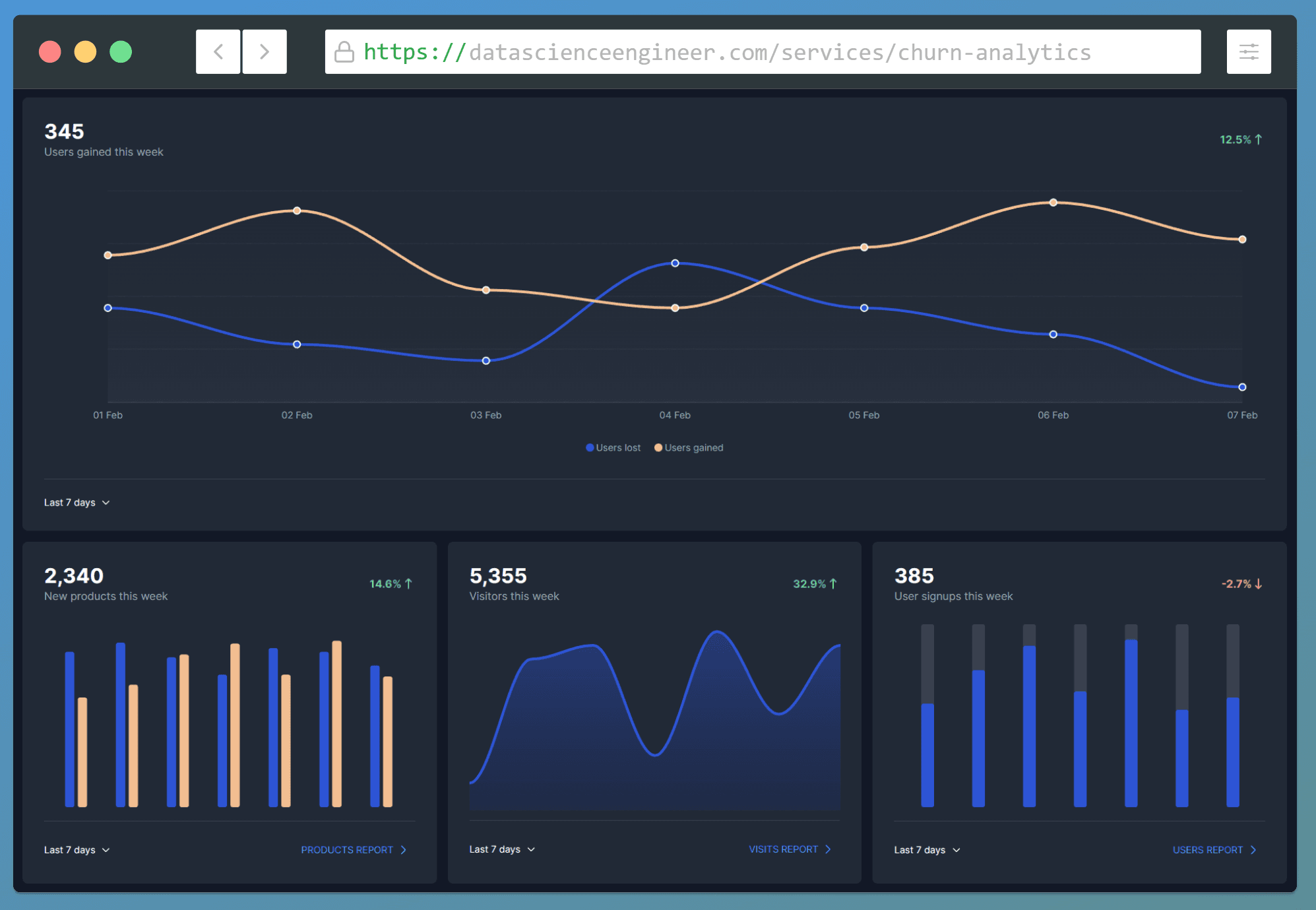 How my churn analytics service works
All-in-one churn analytics
Churn starts way before a user clicks unsubscribe. Churn happens when users are annoyed, can't find the features they want, experience bugs or when your service does not provide enough value.
The steps below highlight which tasks are executed by me - the only thing for you to do is granting me access to your websites codebase or tracking data. Analyzing user churn behavior, creating models for predicting (and preventing!) churn and providing you with monitoring dashboards is on my list.
1. Let's hop on a quick call to find your needs

First things first - let's get to know each other, let me know your business and churn-needs and let you know my working methods.

2. I'll send you detailed onboarding material

After finding ourselves liking working together, I'll provide you with materials about the exact process, when and what to expect and how you can support getting good results.

3. (Optional) We sign NDAs

If the data you might share with me are sensitive - let's sign an NDA. Happy to provide you with a template.

4. (Optional) Adding tracker to your website code

If you don't already have a professional web-tracking solution, I'll support in adding a GDPR-compliant, state-of-the-art user behavior analytics tracker to your page or app.

5. Collecting data for approx. 1 week to 1 month

After instrumenting your page, we wait for approx. 1 week to 1 months (depending on your user volume) to have a good base for starting with the dashboarding and analytics process.

6. Creating user models

Modelling user behavior is the most fundamental part of churned users - we need to know, how ordinary users behave. From there we derive patterns which we see on churning users.

7. Creating Dashboards & Reports

I'll provide interactive dashboards which illustrate your websites users behavior and churn indicators. The dashboards are built from scratch - specifically for your page.

8. Review of Dashboards & Reports

After I'm happy with the results I hand the dashboard over to you - with instructions on how to use them and specific questions for reviewing them.

9. Iteration on Dashboards & Analytics

After your careful review, I'll integrate potential feature requests and feedback from your side - to provide a premium product you may use for years to come.

10. Documentation

After everything is instrumented and you are happy with your analytics and dashboards, I'll provide extensive documentation for what was done, how this is GDPR compliant and how you can use it from now on.
"Andreas has been known to me as an outstanding technologist and extremely trustworthy partner. With his efficient and focused way of working as well as his excellent communication skills, he has been instrumental in further developing and professionalizing our IoT platform as well as the know-how build-up in our teams. Without any reservation I can recommend a cooperation with Andreas."
Simple no-tricks pricing
Pay me once and I'll deliver the redefined churn analytics reports - no matter how long it takes. However: Let's first find out the appropriate actions and only then discuss price.
Churn Analytics Premium
I'll provide the insights you need to reduce the amount of churn on your page or app.
What's included
Optional: Web Tracking
User behavior models
Churn indicator report
Dashboard for early churn signals
Let's hop on a quick call to discuss your requirements
Let's talk
Invoices and receipts available for easy company reimbursement
Contact Me
Send me your request idea or general feedback. I'm happy to come back to you as soon as possible