Hands-off

Web-Tracking

for small businesses.
Do you know why your users churn? Where your users are coming from? For how long they stay? Which buttons they are clicking?
Would you like to know?
Trusted by these and other companies
What you'll get for your money
Everything for you to know your website performance
I'll take care of all aspects of your web tracking needs. From adding GDPR compliant trackers, to collecting and storing the data in secure locations and using these data for finding out what exactly your users like and don't like about your page.
Tracker Setup:

I add modern, GDPR compliant trackers to your webpage - collecting anonymized data about your users behavior and respecting their privacy.

Data Storage:

The collected user data is stored in GDPR compliant data stores and modelled to provide analytical value.

Dashboarding & Reports:

I'll provide up to 3 dashboards, containing all the relevant information you need to know about your web page.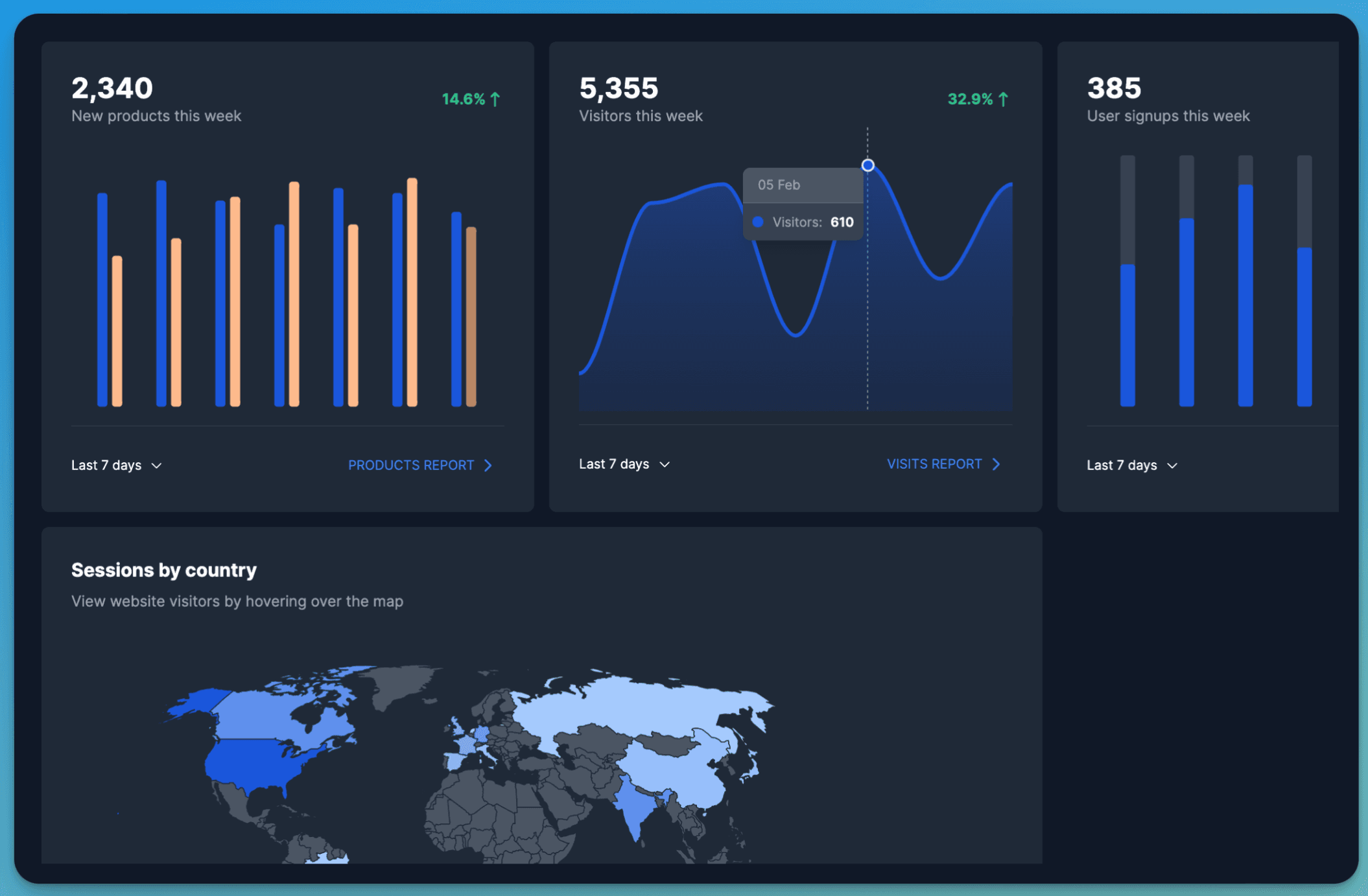 How it works
All-in-one web tracking
I'll provide you with any resources and tools needed to get insights in how your users perceive your site. This includes adding necessary, GDPR-compliant trackers, storing your data and providing state-of-the art analytics.
The steps below highlight which tasks are executed by me - the only thing for you to do is granting me access to your websites codebase and consuming and interpreting the analytics results after successfully instrumenting your web-site.
1. I'll send you detailed onboarding material

These contain detailed instructions for what happens when and what I need so that I can provide you best results.

2. (Optional) We sign NDAs

If the data you might share with me are sensitive - let's sign an NDA. Happy to provide you with a template.

3. I'll provide options for your tracking solution

Not every use-case is the same - I'm happy to accommodate for that. With a questionnaire, I'll figure which tracker is best for you.

4. Adding tracker to your website code

In order for me to add a lightweight and GDPR compliant tracker, I'll need access to your wordpress or web-site codebase.

5. Preparing data storage

Depending on the tracker we decide to use, I'll prepare the tracking data stores and provide you the full access credentials.

6. Collecting data for approx. 1 week

After instrumenting your page, we wait for approx. 1 week to have a good base for starting with the dashboarding and analytics process.

7. Creating Dashboards & Reports

I'll provide interactive dashboards which illustrate your websites users behavior. The dashboards are built from scratch - specifically for your page.

8. Review of Dashboards & Reports

After I'm happy with the results I hand the dashboard over to you - with instructions on how to use them and specific questions for reviewing them.

9. Iteration on Dashboards & Analytics

After your careful review, I'll integrate potential feature requests and feedback from your side - to provide a premium product you may use for years to come.

10. Documentation

After everything is instrumented and you are happy with your analytics and dashboards, I'll provide extensive documentation for what was done, how this is GDPR compliant and how you can use it from now on.
"Andreas has been known to me as an outstanding technologist and extremely trustworthy partner. With his efficient and focused way of working as well as his excellent communication skills, he has been instrumental in further developing and professionalizing our IoT platform as well as the know-how build-up in our teams. Without any reservation I can recommend a cooperation with Andreas."
Simple no-tricks pricing
Choose the right plan for you
There are two components to my pricing - my service offering to set up your whole pipeline as a onetime fee as well as a small monthly fee to maintain your data storage and infrastructure. With the "Essential" and "Gold" package you get additional monthly analytics requests on top.
Basic
€465one-time
€0/month
€0 per month if paid annually
Buy Basic Tracking
Everything necessary to get started.
Unlimited managed data store
1 dashboard with basic web stats
Up to 5,000 events/month
1 Dashboard iteration
Full access to data and dashboards
Best-effort E-Mail-Support
Tracking of page-views, unique users and visit duration
Essential
€699one-time
€68/month
€56 per month if paid annually
Buy Essential Tracking
Everything in Basic, plus additional events and one dashboard change request
Unlimited managed data store
2 dashboards with advanced user stats
Up to 500,000 events
Advanced analytics
24-hour support response time
2 Dashboards iterations
Tracking of page-views, unique users and visit duration
Tracking of 2 additional custom events
1 dashboard change request per month
Gold
€1225one-time
€199/month
€175 per month if paid annually
Buy Gold Tracking
Everything in Essential, plus more events and more advanced analytics requests
Unlimited managed data store
3 dashboards with advanced user stats
Up to 5,000,000 events
Advanced analytics
24-hour support response time
3 Dashboards iterations
Tracking of page-views, unique users and visit duration
Tracking of 5 additional custom events
3 dashboard change request per month
Invitation to a private Slack Channel
Additional events: 9€/month for 200,000 events
I'll come back to you at latest 48 hours after your purchase. I'll provide instructions and a clear guide on how our transaction will continue.
Next availability: Due to popular demand, your request will be handled starting with June 20th 2023
All terms come with a 14-day money back guarantee
Need Something More?
Custom Plan
Need more events? More analytics requests? Additional, specific events you want to track? No problem, contact me!
Contact Me
Send me your request idea or general feedback. I'm happy to come back to you as soon as possible